DETAIL
【Limited sale】 All-you-can-eat drinks course in prison ★ MAX160 seed OVER ★ 3480 yen ~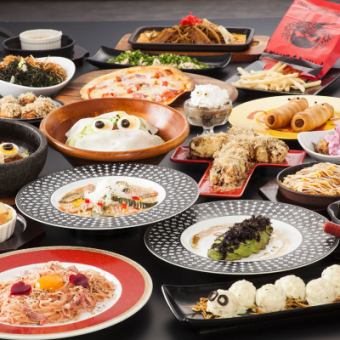 By using a coupon3480 yen
All you can drink draft beer, original cocktail with one person / free drinks · 500 yen + tax included!
All-you-can-drink available

The following drink menu is all you can drink! With further + 500 yen our prison original cocktail original non alcoholic cocktail draft beer can also be drunk!
Reservation deadline

Visit of hope the day before until 23:00
【All-you-can-eat menu for the limited time only! All you can drink !! This course will be suspended from 18 o'clock to 21 o'clock on Saturday · Public holiday.The time of the seat is two-hour system.We will limit 5 pairs a day on 12/28 ~ 31.
Course menu
«~ Appetizers ~»
For the time being / Edamame Pepefer STYLE / Avocado Nori Nori Antipast / Pizza Cucumber / Salmon and Avocado Sparkling Patcho / Tomatoed Tomato / Hand-made Cow Streak Braised Love Affection / Sapphari Steamed Chicken Onion Ponzu Ponzu / Out of Solden Meat A small bowl
«~ Salad ~»
Caesar salad / Parikarinori jiga salad / potato salad Ground caterpillar
«~ Russian roulette ~» Takoyaki bomb (LV 3) / petit shu roulette (LV 2)
«~ Fried food ~»
Fried chinese fried / fried potato salt of bag / fried potato beef curry of the bag / fried potato butter soy sauce / bag Fried potato compota / chicken zangi / chicken serge Otaru Mayo / chicken Zangi grated ponzu / chicken Zangi pink Tartar / mochiri potato Mitarashi / mochiri potato honey
«Lord of the guardian superior ~ meat ~» Prison expression SPICY yakitori / hell thick bacon steak
«~ Superb item ~»
Plenty of cheese potato grilled / confession your favorite crucifix / crispy pan gratin / prawn Mayo sweets / squirrel sausage mummy / iron plate cheese grilled dumplings / pig pays / SPICY chicken / addictive corn butter
«~ Pizza ~» Mix pizza / Stewed pizza
«~ Noodles · rice»
Pink Naara / Futoforobu oven bake / Prison iron plate Yakisoba / Prison iron plate Omu yakisoba / Taco rice stone pot hell / Tsuki no Shirayu chazuke
«~ Dessert ~»
Approximately ordinary vanilla ice / sprinkle with ordinary vanilla ice with chocolate Crisply / ghost of working fire Catalan / Purupuru coffee Monster / fried bread with ice
★ All-you-can-eat premium menu + 500 yen OK! 【ROAST BEAST Prison special roast bee all you can eat】 ★
★ ☆ Large popularity ☆ ★ With name 【Anniversary Cake】 You can prepare with 2,000 yen (tax excluded).Please leave a birthday and other celebrations ♪ Please see details for stores.※ All you can drink beverage is 30 minutes before LO / order other than First Order Decanta wine for 4 guests per person, Sake and bottled beer will be counted for 2 people
All-you-can-drink menu
· Beer · Sake · Wine
· Bottle Beer / Sake (燗 · Cold) / Glass of Wine (White · Red) / Decanter Wine (White · Red)
· High Bowl · Plum wine · Shochu
· Angle High Ball / Angle Ginger High Ball / Angle Cork High Ball / Angle Real Gold High Ball / Plum wine (red / black) / Shochu (potato / wheat)
·Cocktail
· Cassis oolong / cassis soda / cassis orange / gin tonic / jin lime / gym bag / moscommeureur / peach oolong / fuzzy group / apple ginger / kitty / sangria (white · red) / mojito
·Cocktail
· Mango Navel / Mango Milk / Strawberry Milk / Bailey's Milk / Cuba Libre / Apelohonic Tonic / Apée Roll Mooni / Shandigafu
·sour
· Oolong Hi / Black Oolong Hi / Green Tea High / Lemon Sour / Lime Sour / Giant Pea Sour / Ramnaisauer / Yuzu Sour / Spicy Ginger Sour / Kiwi & Collagen Sour / Salt Litchi Sour / Honey Lemon Sour / Fuji netsurong Sour / Fresh Meat Melon Sour / Tochio Tomei Strawberry Sour / Mango Calpis Sour
·Soft drink
· Oolong / Black Oolong / Orange Juice / Grapefruit Juice / Cola / Ginger Ale / Real Gold / Calpis Water / Calpis Soda
· Original cocktail + 500 yen (excluding tax)!
· Human Experiment Cocktail Set / Escape of Silent Hill / Human Eating Plant / Red Vaccine / Dark Knight / Yellow Vaccine / Ghost Trick // Electric Shock
· Original non alcoholic cocktail + 500 yen (excluding tax)!
· Strobe Edge / Assassination Syringe / Bakemonogatari / Snake Eater / Dr. Hoffman Water Pollution Drug / Transfer Fraud / Cotton Candy Awakening Soda / Cold View of Basilisk / Alchemy Cocktail Set
· Draft beer + 500 yen (excluding tax)!
·draft beer
Coupon that can be used
【Early Bird & Late Break】 All-you-can-drink ♪ Original Cocktail & Draft beer All you can drink + 500 yen is 0 yen!

Presentation conditions

At the time of booking

Conditions of use

Only for those who ordered unlimited tickets / services can not be combined / all you can drink on request All groups can use the same plan / reservation required / early opening is open ~ 17: 30 start ★ late break is a start of 21: 15 ~.

Expiration date

Until the end of June, 2018
2018/06/10 update