DETAIL
Single item cake 3 【SURPRISE!】 Super Long! 4 great privileges included ♪ ★ Fantasista Cake ★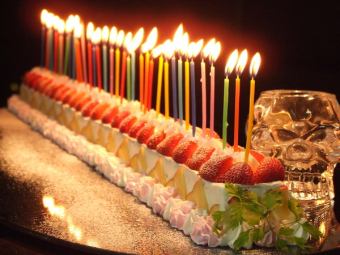 3000 yen
We will prepare from 40 cm 3,000 yen to 1 meter.
Reservation deadline

Coming up to 2 days before 23 o'clock in the desired date
It is not interesting in the background! It is an introduction of the anniversary cake for birthday, anniversary, and welcome reception.It is a popular item that receives over 10 orders per month.Ordering 1 meter by 2 people (laugh) Of course not even party courses but single item order OK ♪
Course menu
~ Surprised! Super Long Cake! Surprising Surprises ~
★ FANTASISTA CAKE ★
Please choose the length.
Candlelight gently and beautifully produces ★
Of course with the message & name ♪
40 cm 3,000 yen · · · Minimum size, for 3 to 4 people
60 centimeters 4,000 yen · · · Wow! Long! 5 ~ 6 people
80 centimeters 5,000 yen · · · Surprised! Long! 7 to 8 people
1 meter 6,000 yen · · · startle! Super Long! 9 ~ 10 people
(Price varies by tax)
◆ Normal Anniversary Cake ◆
You can order also here.
Message and name entered.4 great privileges are also coming ♪
2,000 yen (tax exception) · · · 2 ~ 4 people
~ 4 Great Benefits Contents ~
1. Surprise from monster director ♪ raise up
A special celebration such as a birthday, anniversary, a welcome party and a farewell party will be raised with a surprise before and after the attraction with a monster! Only such a surprise is a lockup! (Please also consult those who wish to be celebrated just at 24 o'clock etc. )
2. Cake with name with fireworks
Put the message and name in the plate of the cake ☆ (There is a possibility that the type of cake will change depending on the season and store.For details please contact the store
3. Commemorative photo taken with monster
You can take a commemorative photo with a monster.You can also shoot with your mobile phone, please feel free to voice please ♪
4. Present an original photo card
Gifts with a monster and photos taken with a commemorative photo with the original photo card ♪
5. Give a beer tower for each first-come first-served basis only !!!
(You can also correspond to non-alcohol if you can consult)
Customers only booking for more than 6 people by the day before !!! Early ones win ♪
Our staff will be happy to help you with memorable memorable days!
Please consult us at the time of reservation!
2018/06/10 update