DETAIL
【Prisoner surprise course】 ◎ 9 cuisines (including festive cake) + all-you-can-drink with birthday and anniversary 3500 yen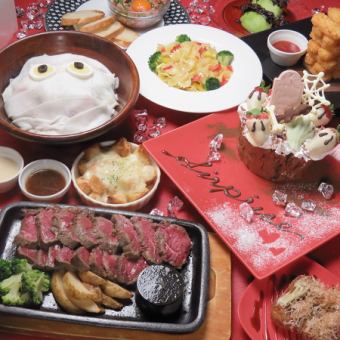 By using a coupon3500 yen
All you can drink draft beer, original cocktail with one person / free drinks · 500 yen + tax included!
All-you-can-drink available

All-you-can-drink drinks are all-you-can-drink! With even + 500 yen you can also drink this prison original cocktail, non alcoholic cocktail draft beer!
Reservation deadline

Visit of hope the day before until 23:00
Special day such as birthday, anniversary, farewell party and adult celebration directing the surprise of 4 big privileges which can not be tasted elsewhere ☆ monster and police, model prisoners will rise together! Recommend to memories with loved ones It's an all-you-can-drink cocktail that can only enjoy lockup at + 500 yen for 2 hours (non-alcoholic cocktail also available, so young people can enjoy it) All you can drink!
Course menu
9 dishes are cooked
■ Roast beef Yukke STYLE
■ Muira Man's Caesar Salad
■ Avocado Nori Nori Antipasto
■ Hashed potato jenga
■ Takoyaki bomb
■ Crispy pangratin
■ Steak Iron Maiden
■ Monster bowtie pasta
■ Blessings Anniversary Cake
~ 4 Great Benefits Contents ~
1. Surprise from monster director ♪ raise up
A special celebration such as a birthday, anniversary, a welcome party and a farewell party will be raised with a surprise before and after the attraction with a monster! Only such a surprise is a lockup! (Please also consult those who wish to be celebrated just at 24 o'clock etc. )
2. Cake with name with fireworks
Put the message and name in the plate of the cake ☆ (There is a possibility that the type of cake will change depending on the season and store.For details please contact the store
3. Commemorative photo taken with monster
You can take a commemorative photo with a monster.You can also shoot with your mobile phone, please feel free to voice please ♪
4. Present an original photo card
Gifts with a monster and photos taken with a commemorative photo with the original photo card ♪
In addition ,,, 5. Daily beer tower gifts for first-come first-served basis !!!
(You can also correspond to non-alcohol if you can consult)
Customers only booking for more than 6 people by the day before !!! Early ones win ♪
Our staff will be happy to help you with memorable memorable days!
Please consult us at the time of reservation!
All-you-can-drink menu
· 【+ 500 yen!】 Original cocktail & draft beer
· Human Experiment Cocktail Set / Electric Shock / Giant Cloud Graffiti / Ghost Capture Kit / Human Eating Plant / Jekyll and Hyde / Requiem to Human / Tropical Hazard / Prisoners Shangri-la / New Medicine Monitor / Red Vaccine / Mako Addiction / Draft Beer
· [At + 500 yen!] Non alcoholic cocktail
· Small Crystal / Dissolution Cappuccino / Dr. Hoffman Water Pollution Drug / Permanent Purple Haze / Forbidden Cold View / Assassination Syringe / Alchemy Cocktail Set / Snake Eater / Crimson Pandemic / Awakening Nightmare / Yellow Vaccine / Miserious Potassium
·Cocktail
· Cassis soda / cassis orange / cassis grapefruit / cassis oolong / cassis milk / peach soda / fuzzy group / peach oolong / peach milk / kitty / carimoco / operator / splitzer / banana orange / banana milk
·Cocktail
· Gin tonic / Jimbac / Jin Lime / Orange Blossom / Moscow Klee / Screwdriver / Bulldog / Lamb Hi / Rum Coke / Lamb Tonic / Mango Ginger / Mango Navel / Mango Milk / Coconut Cork / Coconut Orange
· Bottled beer · Sake · Wine · Plum wine · Shochu
· Bottle Beer / SAKE (HOT · ICE) / Beaker Wine (White · Red) / Decanter Wine (White · Red) / Sangria (White · Red) / Fresh Blood Plum Sake / Pot Shochu / Wheat Shochu
·Highball
· High Ball / Ginger High Ball / Cork High Ball / Real Gold High Ball / Apple High Ball / Peach High Ball / YUZU High Ball
·sour
· Dark black oolong split / relaxing gyokuro tea split / female prisoner jasmine splash / tonic Balikin sour / shredded lemon sour / male prime plum sour / breeding kiwi sour / orolong apple sour / olu peach sour / MK 2 pine sour / bloody cassis Sour / Exhausted Yuzu Sour / Pale White Ramune Sauper / Innocent Calpis Sour / Robber Real Gold Sour
·Soft drink
· Oolong tea / Black oolong tea / Jasmine tea / Cola / Ginger ale / Real gold / Orange juice / Grapefruit juice / Calpis water / Calpis soda
Coupon that can be used
【Early Bird & Late Break】 All-you-can-drink ♪ Original Cocktail & Draft beer All you can drink + 500 yen is 0 yen!

Presentation conditions

At the time of booking

Conditions of use

Only for those who ordered unlimited tickets / services can not be combined / all you can drink on request All groups can use the same plan / reservation required / early opening is open ~ 17: 30 start ★ late break is a start of 21: 15 ~.

Expiration date

Until the end of June, 2018

Original set ★ ★ celebration at Champagne Tower (Beer OR soft drink) ♪

Presentation conditions

Please present at seated when sitting

Conditions of use

Reservation required application, up to 1st pair everyday / Customers who ordered prison surprise course or cake for over 6 people

Expiration date

Until the end of June, 2018
2018/06/10 update