DETAIL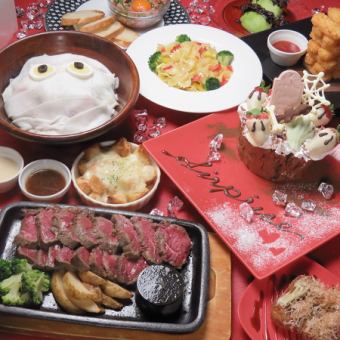 【Prisoner surprise course】 ◎ 9 cuisines (including festive cake) + all-you-can-drink with birthday and anniversary 3500 yen
All you can drink draft beer, original cocktail with one person / free drinks · 500 yen + tax included!
Special day such as birthday, anniversary, farewell reception party, adult celebration etc. directs surprise of 4 big privileges which can not be tasted elsewhere ☆ monster and police, model prisoners will be raised together! Recommend to memories with loved ones It's an all-you-can-drink cocktail that can only enjoy lock-up for + 2 hours at 500 yen (non-alcoholic cocktail also available, so even minors can enjoy it) All you can drink!
Menu

9 dishes are cooked

■ Roast beef Yukke STYLE

■ Muira Man's Caesar Salad

■ Avocado Nori Nori Antipasto

■ Hashed potato jenga

■ Takoyaki bomb

■ Crispy pangratin

■ Steak Iron Maiden

■ Monster bowtie pasta

■ Blessings Anniversary Cake

~ 4 Great Benefits Contents ~

1. Surprise from monster director ♪ raise up

A special celebration such as a birthday, anniversary, a welcome party and a farewell party are excited with a surprise before and after the attraction with a monster! Only such a surprise is a lockup! (Please also consult those who wish to be celebrated just at 24 o'clock etc. )

2. Cake with name with fireworks

Put the message and name in the plate of the cake ☆ (There is a possibility that the type of cake will change depending on the season and store.For details please contact the store

3. Commemorative photo taken with monster

You can take a commemorative photo with a monster.You can also shoot with your mobile phone, please feel free to voice please ♪

4. Present an original photo card

Gifts with a monster and photos taken with a commemorative photo with the original photo card ♪

In addition ,,, 5. Daily beer tower gifts for first-come first-served basis !!!

(You can also correspond to non-alcohol if you can consult)

Customers only booking for more than 6 people by the day before !!! Early ones win ♪

Our staff will be happy to help you with memorable memorable days!

Please consult us at the time of reservation!