DETAIL
【Prison Course】 Reasonable ★ Cooking 9 items + 2 hours drinking and drinking 2780 yen ★ 18 to 21 o'clock for 3280 yen (with cocktail)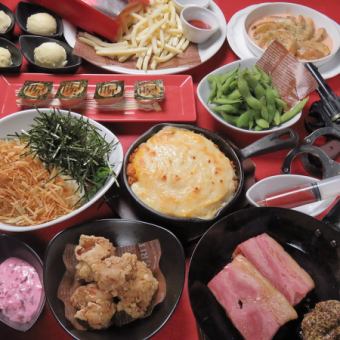 By using a coupon2780 yen
All you can drink draft beer, original cocktail with one person / free drinks · 500 yen + tax included!
All-you-can-drink available

All-you-can-drink drinks are all-you-can-drink! With even + 500 yen you can also drink this prison original cocktail, non alcoholic cocktail draft beer!
Reservation deadline

Visit of hope the day before until 23:00
Lockup Nursing Chief Recommended Trial Course! It is also ideal for girls' party, party, gangbang as well as date! Event days are suspended for this course.From 18 o'clock to 21 o'clock, it is +500 yen draft beer · original cocktail with all you can drink 3,280 yen only.
Course menu
9 dishes are cooked
■ In the meantime Edamame
■ Braised eggs (roulette menu where you can choose a spicy number)
■ Crispy nori salad
■ Young chicken Zangi pink tarutaru
■ French fries
■ Melita potato grill
■ Prison thick! Bacon steak
■ Grilled omelet with oven
■ refreshing ice ♪
Reasonable course that makes it easy to enjoy lockup!
※ This course is from 18 o'clock to 21 o'clock with original cocktail (3,280 yen) sale.
Original cocktail at +500 yen (Enrich non alcoholic cocktail even for minors) Enjoy all you can drink
In the case of original cocktail, the whole time zone can be accepted.
All-you-can-drink menu
· 【+ 500 yen!】 Original cocktail & draft beer
· Human Experiment Cocktail Set / Electric Shock / Giant Cloud Graffiti / Ghost Capture Kit / Human Eating Plant / Jekyll and Hyde / Requiem to Human / Tropical Hazard / Prisoners Shangri-la / New Medicine Monitor / Red Vaccine / Mako Addiction / Draft Beer
· [At + 500 yen!] Non alcoholic cocktail
· Small Crystal / Dissolution Cappuccino / Dr. Hoffman Water Pollution Drug / Permanent Purple Haze / Forbidden Cold View / Assassination Syringe / Alchemy Cocktail Set / Snake Eater / Crimson Pandemic / Awakening Nightmare / Yellow Vaccine / Miserious Potassium
·Cocktail
· Cassis soda / cassis orange / cassis grapefruit / cassis oolong / cassis milk / peach soda / fuzzy group / peach oolong / peach milk / kitty / carimoco / operator / splitzer / banana orange / banana milk
·Cocktail
· Gin tonic / Jimbac / Jin Lime / Orange Blossom / Moscow Klee / Screwdriver / Bulldog / Lamb Hi / Rum Coke / Lamb Tonic / Mango Ginger / Mango Navel / Mango Milk / Coconut Cork / Coconut Orange
· Bottled beer · Sake · Wine · Plum wine · Shochu
· Bottle Beer / SAKE (HOT · ICE) / Beaker Wine (White · Red) / Decanter Wine (White · Red) / Sangria (White · Red) / Fresh Blood Plum Sake / Pot Shochu / Wheat Shochu
·Highball
· High Ball / Ginger High Ball / Cork High Ball / Real Gold High Ball / Apple High Ball / Peach High Ball / YUZU High Ball
·sour
· Dark black oolong split / relaxing gyokuro tea split / female prisoner jasmine splash / tonic Balikin sour / shredded lemon sour / male prime plum sour / breeding kiwi sour / orolong apple sour / olu peach sour / MK 2 pine sour / bloody cassis Sour / Exhausted Yuzu Sour / Pale White Ramune Sauper / Innocent Calpis Sour / Robber Real Gold Sour
·Soft drink
· Oolong tea / Black oolong tea / Jasmine tea / Cola / Ginger ale / Real gold / Orange juice / Grapefruit juice / Calpis water / Calpis soda
Coupon that can be used
【Early Bird & Late Break】 All-you-can-drink ♪ Original Cocktail & Draft beer All you can drink + 500 yen is 0 yen!

Presentation conditions

At the time of booking

Conditions of use

Only for those who ordered unlimited tickets / services can not be combined / all you can drink on request All groups can use the same plan / reservation required / early opening is open ~ 17: 30 start ★ late break is a start of 21: 15 ~.

Expiration date

Until the end of June, 2018
2018/06/10 update