DETAIL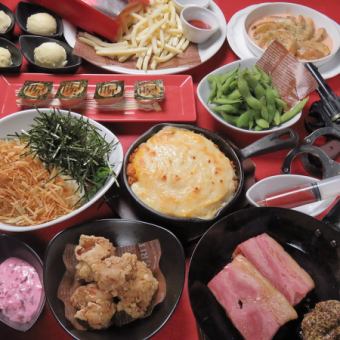 【Prison Course】 Reasonable ★ Cooking 9 items + 2 hours drinking and drinking 2780 yen ★ 18 to 21 o'clock for 3280 yen (with cocktail)
All you can drink draft beer, original cocktail with one person / free drinks · 500 yen + tax included!
Lockup Nursing Chief Recommended Trial Course! Suitable for girls' party, parties, gangbangs as well as dates! Events on this course are closed for sale.From 18 o'clock to 21 o'clock, it is +500 yen draft beer · original cocktail with all you can drink 3,280 yen only.
Menu

9 dishes are cooked

■ In the meantime Edamame

■ Braised eggs (roulette menu where you can choose a spicy number)

■ Crispy nori salad

■ Young chicken Zangi pink tarutaru

■ French fries

■ Melita potato grill

■ Prison thick! Bacon steak

■ Grilled omelet with oven

■ refreshing ice ♪

Reasonable course that makes it easy to enjoy lockup!

※ This course is from 18 o'clock to 21 o'clock with original cocktail (3,280 yen) sale.

Original cocktail at +500 yen (Enrich non alcoholic cocktail even for minors) Enjoy all you can drink

In the case of original cocktail, the whole time zone can be accepted.