DETAIL
[Tower of Beer] ◎ for surprise work ♪! Non alcohol is OK ♪ Quantity Limited ★ Sold Out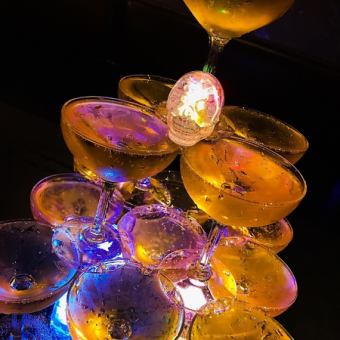 1500yen
It is the price including consumption tax and service charge.
Reservation deadline

Visit of hope the day before until 23:00
Let's add to the celebration of special days such as birthday, anniversary, farewell reception party, adult celebration etc. ♪ It is recommended to book in advance as it is limited quantity ★ ※ Surprise benefits are not included with this plan only.※ Please consult with other drinks such as ginger ale with non-alcohol except non-beer.
Course menu
Tower of Beer
Basically, like a three-stage champagne tower, offering ♪ by overlaying glasses
Because it is limited quantity per day, reservation is recommended in advance.
Also, even if it has not reached the limited quantity, we may refuse it because it is difficult to provide in the same time zone.
1. Basic will set the tower when sitting.
2. Please drink and have a toast with everyone ♪
3. We will collect the drinking glasses in order, so please order from there regular order.
Plus the cake plus the following benefits ♪
↓ ↓ ↓
~ 4 Great Benefits Contents ~
1. Surprise from monster director ♪ raise up
A special celebration such as a birthday, anniversary, a welcome party and a farewell party will be raised with a surprise before and after the attraction with a monster! Only such a surprise is a lockup! (Please also consult those who wish to be celebrated just at 24 o'clock etc. )
2. Cake with name with fireworks
Put the message and name in the plate of the cake ☆ (There is a possibility that the type of cake will change depending on the season and store.For details please contact the store
3. Commemorative photo taken with monster
You can take a commemorative photo with a monster.You can also shoot with your mobile phone, please feel free to voice please ♪
4. Present an original photo card
Gifts with a monster and photos taken with a commemorative photo with the original photo card ♪
Our staff will be happy to help you with memorable memorable days!
Please consult us at the time of reservation!
2018/06/10 update