DETAIL
【Prison Variety Course】 2H Drinking and Cooking Cuisine 10 Items 3500 yen ★ W Mainly Volume Excellent ♪ Various Party ◎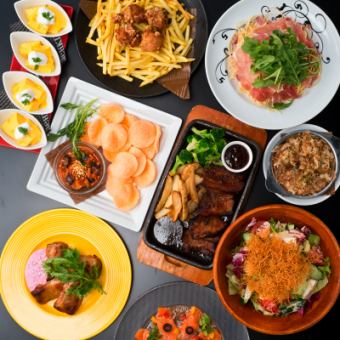 By using a coupon3500 yen
All you can drink draft beer, original cocktail with one person / free drinks · 500 yen + tax included!
All-you-can-drink available

Variety of rich drinks! Also we can drink this prison original cocktail, non alcoholic cocktail draft beer at +500 yen as well!
Reservation deadline

Visit of hope the day before until 23:00
Recommended for various banquets such as farewell party · drinking party · girls' association · gongkong etc.! Volume perfectly 10 items course, main is chicken and pork ♪ standard dishes are prepared so we can enjoy it delicious ordinary ♪ further + 500 yen Limited original cocktail as well ♪ All you can drink ♪ Beakers, flasks, test tubes have fun cocktails there is no other thing ♪ definitely become a topic ♪
Course menu
◆ Nasumiso dip ◆ Pleasant dip on Ebisen ♪
◆ salmon colorful patcho ◆ girls popular salmon ♪
◆ Salad of tofu ◆ Healthy ♪ salad that is refreshing
◆ French fries ◆ Immovable 4th · iron plate popularity
◆ Zangi of chicken ◆ Prison formula fried chicken pickled in homemade sauce ♪
◆ Takoyaki bomb ◆ Russian roulette! Explosive if you eat a piece!?
◆ TERICHIKI ~ Teriyaki chicken with pink tartar ~ ◆ Includes specially tasted grilled savory chicken and bamboo grilled tartar ♪
◆ BUTACHAN ~ Pickled Pork 's Bulgogi Wind ~ ◆ Pork that soaked overnight in a special burgundy sauce, it is irresistible ♪
◆ Pasta with raw ham and Rucola ◆ Chef's hand made pasta ♪
◆ Mango Pudding ◆ Special cream cream is the key player!
* Customers who ordered the course will be asked by everyone in a unified plan.
All-you-can-drink menu
· 【+ 500 yen!】 Original cocktail & draft beer
· Human Experiment Cocktail Set / Electric Shock / Cumulonimbus Graffiti / Ghost Capture Kit / Human Eating Plant / Jekyll and Hyde / Requiem to Human / Tropical Hazard / Shangri-La of Prisoners / New Medicine Monitor / Red Vaccine / Health Addiction
· [At + 500 yen!] Non alcoholic cocktail
· Small Crystal / Dissolution Cappuccino / Dr. Hoffman Water Pollution Drug / Permanent Purple Haze / Forbidden Cold View / Assassination Syringe / Alchemy Cocktail Set / Snake Eater / Crimson Pandemic / Awakening Nightmare / Yellow Vaccine / Miserious Potassium
·Cocktail
· Cassis soda / cassis orange / cassis grapefruit / cassis oolong / cassis milk / peach soda / fuzzy group / peach oolong / peach milk / kitty / carimoco / operator / splitzer / banana orange / banana milk
·Cocktail
· Gin tonic / Jimbac / Jin Lime / Orange Blossom / Moscow Klee / Screwdriver / Bulldog / Lamb Hi / Rum Coke / Lamb Tonic / Mango Ginger / Mango Navel / Mango Milk / Coconut Cork / Coconut Orange
· Japanese sake · wine · plum wine · shochu
· SAKE (HOT · ICE) / beaker wine (white · red) / decanter wine (white · red) / sangria (white · red) / fresh blood plum wine / sweet shochu / wheat distilled spirit
·Highball
· High Ball / Ginger High Ball / Cork High Ball / Real Gold High Ball / Apple High Ball / Peach High Ball / YUZU High Ball
·sour
· Dark black oolong split / relaxing gyokuro tea split / female prisoner jasmine splash / tonic Balikin sour / shredded lemon sour / male prime plum sour / breeding kiwi sour / orolong apple sour / olu peach sour / MK 2 pine sour / bloody cassis Sour / Exhausted Yuzu Sour / Pale White Ramune Sauper / Innocent Calpis Sour / Robber Real Gold Sour
·Soft drink
· Oolong tea / Black oolong tea / Jasmine tea / Cola / Ginger ale / Real gold / Orange juice / Grapefruit juice / Calpis water / Calpis soda
Coupon that can be used
【Early Bird & Late Break】 All-you-can-drink ♪ Original Cocktail & Draft beer All you can drink + 500 yen is 0 yen!

Presentation conditions

At the time of booking

Conditions of use

Only for those who ordered unlimited tickets / services can not be combined / all you can drink on request All groups can use the same plan / reservation required / early opening is open ~ 17: 30 start ★ late break is a start of 21: 15 ~.

Expiration date

Until the end of June, 2018
2018/06/10 update